City Performances
Factbox
| | |
| --- | --- |
| Location | Eight open-air stages in centres of different towns and villages |
| Date | Monday, 8. to Friday, 12. July |
| Duration   | 5 to 15 minutes per show |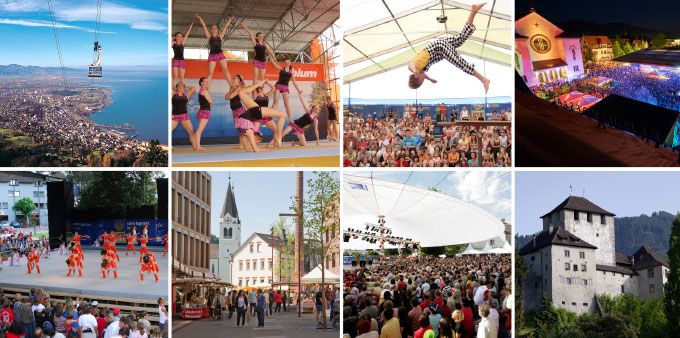 In the centres of eight different towns and villages in Vorarlberg open-air stages will be built. The World ­Gymnaestrada is coming to the heart of the towns and it is certain the performances will thrill the spectators, as they will be close to the action, whether it is a planned visit or just by chance. Old and young, business people, families and pensioners, all passing through the centres of the towns and the World Gymnaestrada will be the middle point of this encounter.
The other way around
With the open-air performances, the Vorarlberg people are not coming to the World Gymnaestrada, but the World Gymnaestrada is coming to the people of Vorarlberg . This is a highlight that together with the National Villages is not just for the spectators but also for the participants to celebrate the World Gymnaestrada 2019 motto – »come together. show your colours!«
City Performances – the icing on the cake of your group performances
With the outdoor atmosphere at various »hotspots« ­within the Gymnaestrada region, performances on an open-air stage offer unique possibilities at attractive venues ­­for every group which is interested in adding one or two extra shows to their three group performances at the Trade Exhibition Centre. And with the offered set-up (adequate dimensions of the performance area, completely covered stage to have both rain protection as well as sunscreens, easily reachable via the public transport system) there should not be any excuses for not performing at an open-air stage. Even more, the LOC can offer two stages (Wolfurt and Hohenems) which are equipped with a ­substantial number of gymnastic apparatus and will also assist in case of any transport needs between the Trade Exhibition Centre and the open-air stages.
Locations of the City Performance stages
The City Performance stages will be located in Bregenz, Höchst, Wolfurt, Lustenau, Hohenems, Götzis, Rankweil and Feldkirch. Visiting the City Performances is free!
 
Monday
8th Juli
Tuesday
9th Juli
Wednesday
10th Juli
Thursday
11th Juli
Friday
12th Juli
Bregenz
14:00 – 19:00
14:00 – 19:00
14:00 – 18:00
14:00 – 19:00
14:00 – 19:00
Höchst
 
16:00 – 19:00
15:00 – 18:00
16:00 – 19:00
 
Wolfurt
 
16:00 – 20:00
 
16:00 – 20:00
16:00 – 20:00
Lustenau
17:00 – 20:00
17:00 – 20:00
 
17:00 – 20:00
 
Hohenems
16:00 – 19:00
16:00 – 19:00
15:00 – 18:00
16:00 – 19:00
16:00 – 19:00
Götzis
 
 
15:00 – 18:00
16:00 – 19:00
16:00 – 19:00
Rankweil
16:00 – 18:00
16:00 – 18:00
16:00 – 18:00
16:00 – 18:00
16:00 – 18:00
Feldkirch
16:00 – 20:00
16:00 – 20:00
16:00 – 18:00